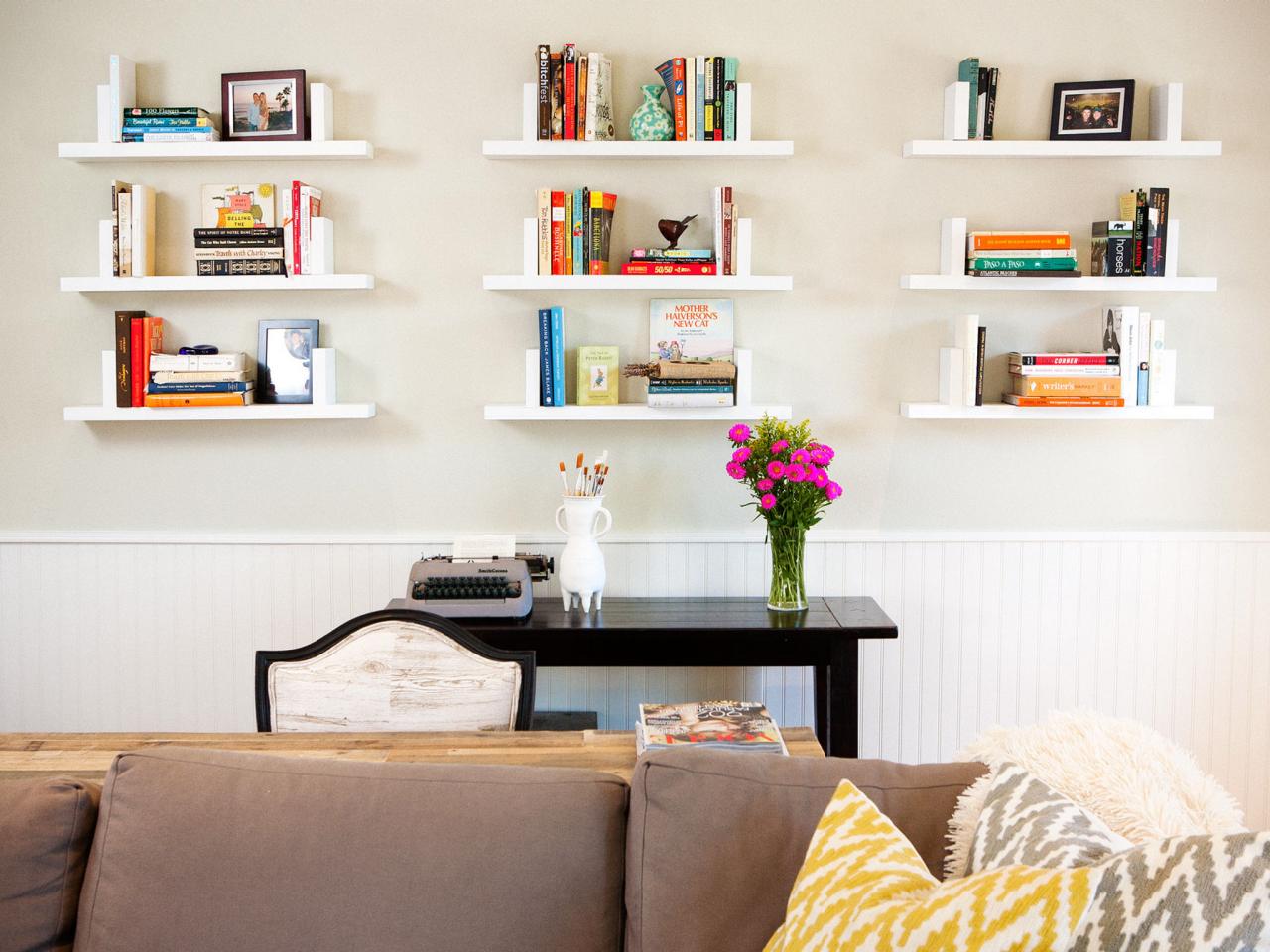 Floating shelves are the perfect option if you are looking to create some storage space in your bedroom, bathroom, kitchen, living room, or all around the space. They are not just great to add more storage space, but they are also aesthetically pleasing to the eye. Perhaps the best thing about floating shelves is that you can use them to create different styles and also decorate them according to your style. They are not only a great option for those who have smaller space, but they also work well for those with bigger spaces. Another major benefit of these shelves is that they are cost-effective and it will fit well with the layout of your home. Let's look at some creative ways to make some space using a Floating Shelf: 
Create Some Space Over Or Below The TV: You can use the floating shelves to create some space over or below the TV. You can then use these shelves to keep your gaming consoles, books, some plants, and other decorative items, or if you have some kind of collection. It is a great way to make space more aesthetically pleasing to the eye and keep the floor space clutter-free and more organized. 
USe It As A Dish Display In The Kitchen: If your kitchen has less to no cabinet space, you can also make use of floating shelves to create space to keep your kitchen belongings. If you do have some cabinets, you can use the Floating Shelf to extend the cabinet, and then use the space to display your dishes and glasses. Once you have created this additional space, you can also decorate it depending on your preference and holidays. 
Make Space For Your Book Collection: If you have stacks of books lying around in boxes and in your room with no place to store them, you can also create a bookshelf using floating shelves. If you have a lot of books and magazines, consider getting a bunch, so that you can create a reading space in your room. Along with the books, you can also keep some plants, and artwork to make the space more aesthetically pleasing. 
Use It As Statement Piece: You can also use the floating shelves to create a statement piece, and when you decorate it carefully, you can create a piece of art. If your goal is to create a piece of art, you should first choose the floating shelf carefully, and then use it to showcase your decor, houseplants, and other accessories that you have. Yes, floating shelves are great to create some space, but one can also create an art masterpiece out of it. 
Create A Storage Space for Your Kids: If you have kids, you can also create some space with it so that they can display their toy collections in it. It will be a good blend in the room, and they can use it to keep their books and display some fun decor. One thing that you should note here is to keep the shelf down low so that your kids can have access to it. But if you do not want them to gain access to it, you should hang it up high. 
Use It To Make Some Space In The Hallway: If you have some empty space in the hallway, you can also add some shelves, and decorate them to lighten up space. Once you have the shelves in place, you can put other decorative items to fill up the empty space, and make the area more welcoming. And if you have some display items lying around, this is a great way to create the space for these items. 
If you are struggling to create space in your apartment, floating shelves are a great option. They are not only great to create some space, but one can also make an art piece out of it.