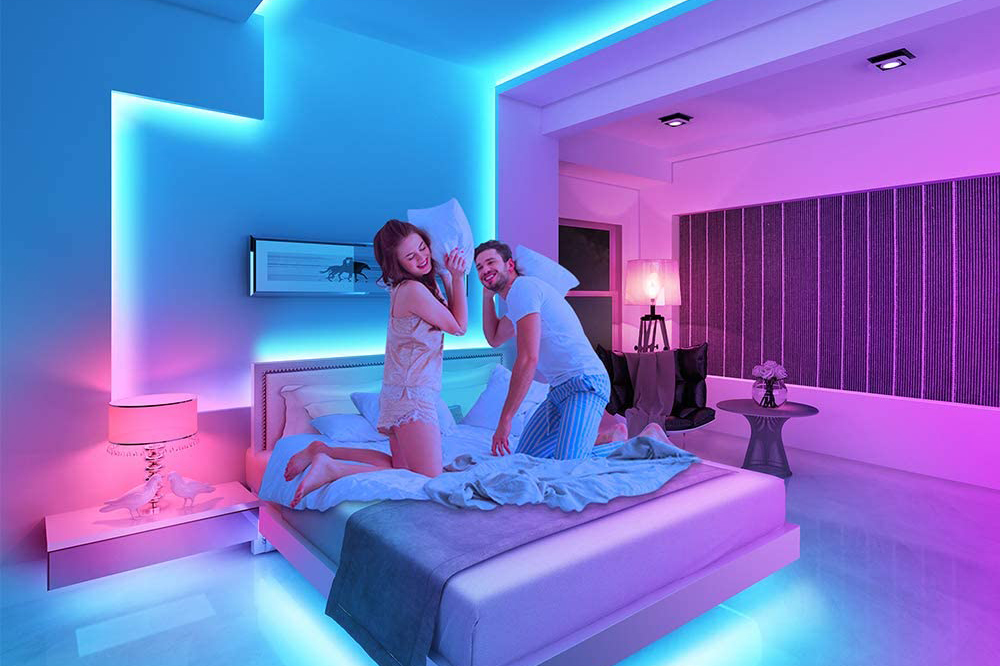 LEDs have completely revolutionized the way that we can light up our homes. For cost-effective solutions, you can implement any of the following techniques to completely change how things appear in your home – lighting is everything when it comes to aesthetics, you can spend a long time on the interior of a home but if the lighting is wrong then you will be disappointed to find that a lot of your hard work has gone to waste.
One very easy way of upgrading a somewhat tired looking bathroom is to add a strip light under a wall-hung vanity to create a warm glow that is atmospheric and adds to the overall feeling of the space. You can now even opt for motion-controlled lighting that will double as a handy nightlight.
Bring light to a terrace
There is nothing better than entertaining on a terrace in the summertime, as the night starts to draw in some LED strip lighting , this is the ideal option to create a more intimate space. In addition to framing.
Accentuate the stairway
Get a good look at the stairway by adding LED strips along the length of the tread down a fresh, modern stairway. The hallway is the ideal place to experiment with lighting, so why not make a big statement and go wild with some colours. There are so many to choose from and you can change the colour at your leisure with colour-changing LED strip lighting.
Enhance a kitchen recess
You can make a combination of both form and function by installing LED strips into the recess areas of kitchens bangor. When you are teamed up with other kinds of kitchen lighting solutions, as such they act as practical lighting points that can help you with cooking, cleaning and creating a brilliant and charming atmosphere.
Colour Therapy
This is known to have a real effect on our natural biorhythms, as such Philips has developed their hue strip lighting so you can customise your living space, winding down for bed with a soothing orange or at some dynamic energy with a splash of blue lighting.
Brighten up some dark corners with LED lighting
LED strip lights can be easily sliced down to size or connected to fit ideally under the pieces of the furniture, it looks as if our accent lighting has been custom made particularly for your purposes. However, the fact of the matter is that LED lighting is affordable for the majority of people.
Add light to a kid's bedroom
Plain white walls can lend themselves to a fun LED strip light – this is particularly true for a fun lego themed bedroom, a lot like this one. Once you can run some LED lighting around the top, you can add some positivity and light to the room – the little ones can even have fun changing the colours!
Cast light from the bathtub. You can turn your bathroom into a spa-style sanctuary, just by adding an LED strip light underneath the bathtub. You can apply a length of the waterproof LED table just underneath the panel. If you're in the hot bath and relaxing, it's going to make you appreciate this amazing lighting effect.