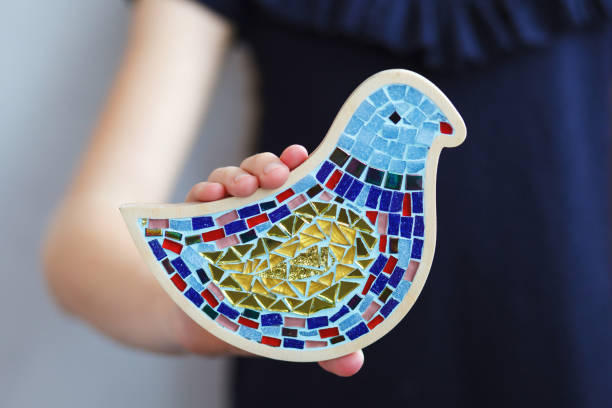 If you love birds, bird watching, or listening to their sweet early morning chirping over a cup of warm coffee, then you will love bird mosaic tiles from. Now, you can turn any backyard space into a true bird-lover's paradise with colorful, durable, and beautifully crafted bird mosaics. We have something for everybody, featuring all your favorite types of birds. Here are some of the most popular options we offer. 
Hum Along with Hummingbird Tiles 
Hummingbirds are a favorite of many thanks to their incredible speed, agility, grace, and beauty. They come in a variety of bright colors, and it's fun to watch them buzz around from flower to flower. Plus, hummingbirds are known for their incredible memories, sociability with other hummingbirds, and precision. Most hummingbirds are attracted to the color red, which is why hummingbird feeders generally come in a bright cherry-red shade. 
Add a hummingbird mosaic to your pool and replicate their speedy dance as the water ripples over their reflection. With different sizes and styles options to choose from, there is a hummingbird mosaic for every hummingbird fan. 
Cock-A-Doodle-Doo
If your style fits a slower, country, farm-style pace, then you might want to check out Blue Water Pool Mosaics' rooster tiles. With their colorful array of bright feathers and bossy attitudes, roosters symbolize protectiveness, boldness, and renewal as the new day dawns. Roosters bring happiness to the entire family by brightening up your outdoor pool space with a splash of vibrant color. You can even incorporate rooster tiling into your home to make your family breakfast feel more colorful. 
Penguins Please
If you enjoy a cute and cuddly look, then bring on the penguins. Nothing is cuter than these adorable and popular birds. Everyone gets the warm fuzzies after looking at a penguin mosaic tile. With their unique tuxedo-like patterns, they make a fashionable statement for any poolside patio scene. Add a playful atmosphere to your pool, bathroom, patio, bar area, or kitchen space with cute penguin mosaics from Blue Water Pool Mosaics today! 
Bird Mosaics For Everyone
Whether you love bird-watching or are just looking to add some nature-themed tiles to your property, there's a wide selection of pool mosaics to choose from. From penguins to roosters and hummingbirds, there are so many options available right now. 
Transform your backyard, pool, and patio spaces with the comforting and lively sound and appeal of birds today. You don't even have to take out your binoculars to watch these birds come to life in your personal bird lover's sanctuary. Lounge in your favorite chair by the pool sipping drinks and getting a tan while enjoying the birds!